Third episode of Season 4 of Girls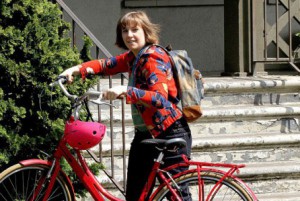 I hate to engage in spoilers or speculation, but my take on the latest season of Girls is that Hannah is going to drop out of her MFA program in creative writing. For those of you just tuning in, last night was the third episode of Season 4 of Girls. During one emotional scene between Hannah and Elijah, she admits that in college, her best friend / roommate Marnie wrote most of her papers. Now that she's in grad school, Hannah feels a certain emptiness from the opportunity to spend her time writing what she ostensibly wants to be writing.
But let's stop right there. Hannah had her best friend write her papers in college! What about integrity?! On the other hand, let's look at it another way: Hannah focused on what she was good at and found a way to leverage her time so that it worked for her. Hannah isn't a terrible student or a desperate scumbag (well, depends on your opinion of Girls). She's one of the whitest people who's ever lived, true, but she is, comparatively speaking, normal. A lot of people may see themselves in her. And even she outsourced her less useful schoolwork. She did not say what Marnie got out of this arrangement, but we here at Unemployed Professors would postulate that she probably did not charge enough. On the other hand, if Marnie ditches Desi, completes a graduate degree and gets some teaching experience, perhaps she could get a gig at Unemployed Professors. Marnie seems to have a lot of experience beating the infamous TurnItIn and writing custom papers.
Girls' shift to an academic Iowa setting may not work in the long-term for the show, but it certainly sets the characters in an interesting light vis-à-vis the potential for conversations about academic honesty.
If you need help with an essay or term paper post your project on unemployed professors today!