The Top 5 Money Moves to Make After Graduating from University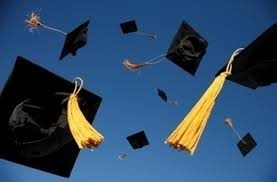 So, you've graduated. Congratulations! You have a diploma, at least three copies of Oh the Places You'll Go, and a wrenching hangover. How do you become a financial grown-up when you couldn't even keep enough money in your meal plan to get a pizza at the end of the semester? These five money moves are a good start.
The first thing you should do is look at your credit report (not just the score). Make sure you know anything that's on there, and begin the process to dispute anything that you did not initiate. This is just good financial housekeeping and you should get in the habit of doing it quarterly. You should be 100% certain of exactly where you stand with student loans, credit cards, and so on. Get started with your free credit report.
Next, make a budget or spending plan. Consider what your priorities are and if possible, use numbers from your first salary – then plan for living off of less than you earn. Be realistic and know yourself a little bit. If you love going out to restaurants, budget for it. If you would rather drive a nice car, then accept that – and consider living in a cheaper apartment or getting a roommate. If you absolutely cannot function without a morning latte, accept that and get store brand groceries or drink soda when you go out with friends. It's perfectly OK to leave yourself a few luxuries, with the key words being a few. It is way better to accept you love clothes and plan for it than to deprive yourself, get frustrated, give up and spend too much. Include in your budget a plan to pay off debt. If you don't want to use a spreadsheet or com, you can try You Need a Budget.
If you are in the USA, start an IRA and begin to contribute to it. Even if it's just $25 a month, you will begin to set up your financial future – and possibly get a tax break. Quick guide: A traditional IRA will reduce your tax bill in the year you contribute, while a Roth IRA is not taxed on gains. If you're not making a lot right now, contribute to a Roth since it could mean tax-free growth later; if you're trying to reduce your tax bill, contribute to a traditional. YMMV, consult a tax pro, etc.
Set goals and save no matter what. Think about what you really want. Do you want to go on a vacation next year with your bros? Do you want to buy a car or a house? Do you want to go to grad school? Have a destination wedding? Don't let your post-graduation let down get in the way. Make a plan and start to make it happen. Even if you don't have any specific spending goals, set savings and investment benchmarks for yourself. It may feel boring and abstract now, but you WILL thank yourself when you get an unexpected medical bill or have to buy a new set of tires. Try using an online savings account, such as SmartyPig, which is designed to help you save to reach goals.
Develop a plan for money and get in the habit of doing it. About once a week, look over your spending from the past week and making sure there are no fraudulent purchases. Every month, look for patterns, trends, and things you can do better. Every quarter, check your credit report and score. Every year (or more often if you are thinking of buying a house or car in the near future), check your credit score.
That's it! These aren't magical money moves to get you rich, but rather, they are habits you should get into for a less stressful post-graduate life.
One of our friendly, tweed-wearing Unemployed Professors is happy to help you tame the essay writing monster.