Salary Expectations for Various Degrees
Salary expectations for various degrees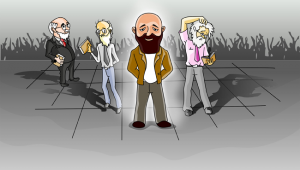 Everyone loves to speculate on the "best" and "worst" majors. Recently, Payscale.com and Yahoo! released a list of the 10 "worst" majors, ranking them on the basis of how many students with these degrees are underemployed. These majors included perennial punching bags, such as English and the liberal arts, as well as more surprising picks, such as economics and business administration.
Payscale.com ranked the top "Majors that Pay You Back" which included Petroleum Engineering, Actuarial Mathematics, Nuclear Engineering, Chemical Engineering, Aerospace Engineering, Electrical Engineering, Computer Engineering, Computer Science, Physics, and Mechanical Engineering. At the other end of the scale, the top 10 worst majors for salary potential included Child & Family Studies, Elementary Education, Social Work, Athletic Training, Human Development, Special Education, Biblical Studies, Horticulture, Exercise Science, and Culinary Arts. These lists can be useful, and if you want to make the big bucks, you can think about which flavour of engineering interests you the most! However, it's important to keep in mind that each of these lists concerns only medians – and Payscale.com's methodology excludes advanced degrees. Struggling to major in something you hate might prove more difficult than succeeding at something you're interested in and passionate about. Often, people switch careers many times in this day and age. Your major is not your fate, nor is it your destiny. I've known many students who went on to work in very different fields, or who switched fields entirely for grad school and transformed yet again in their professional lives. At the same time, however, you need to be realistic. You are far more likely to land a solid job if you establish yourself as an extraordinary student (Or even as a merely above-average one!) in a "mid-payscale" major than if you are a below-average student in a big-bucks major.
Ultimately, it's hard to develop passion for something you only feel "meh" about (if you doubt this, try dating someone you're not attracted to). And it can be very easy to succeed at something you care about. How can you increase your odds of landing a decent job? No matter what major you choose, be an extraordinary student. Prepare well (LINK TO OTHER BLOG). Ask for help if you need it. Carve out opportunities for yourself: it's easy to stop being a student when you leave class, but understand that you are laying the groundwork for your future when you're in school. Spend your spare time reading up on your field and searching for as many opportunities as you can. Network by establishing relationships with your professors (no, not that kind of relationship). Use your school breaks and summers wisely. Not everyone can afford to work for free as an intern, but everybody should spend some time during their breaks tweaking their resume, searching for scholarships and grants, staying informed about the latest developments in their fields, or even just getting ahead on reading. One great way to network and learn more about your field is to attend a professional conference. While conferences are seldom cheap, student rates are often available, and sometimes you can even get in for free if you offer to volunteer. It's a great resume-builder, a great networking opportunity, and one way to hedge the bet you're making on your future. At these events, you can see the latest research, hear panels on professional development, and even put in "face time" with the famous authors of your textbooks! I can't say it enough: Your major's salary potential is not your fate. Life is full of surprises. However, you can increase your chances of landing a great job by maximizing your success in school – whether you're majoring in petroleum engineering or culinary arts.
If you need help with an essay or term paper post your project on unemployed professors today!