How to Study for Midterms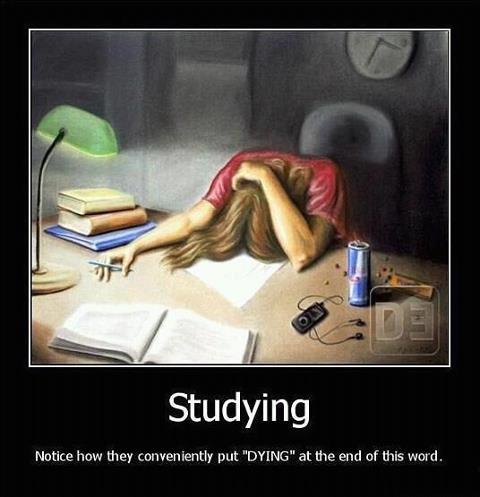 Given that you're on a custom essay site, you're either struggling with the academic portions of your life or just overwhelmed to the point where you're imbibing Red Bull by the case, and staring at your University's meme page or Texts From Last Night, in utter disbelief, and wondering what you've done to deserve this purgatorial state. It's midterm season – fuck.
The question that emerges here is how to maximize your returns (yeah, economist lingo FTW) on the basis of simultaneously exorcising your academic demons, not wasting time, and temporarily allocating portions of your mind better suited to drinking, thinking about drinking, fucking, and/or thinking about fucking to course material that you don't give a shit about.
Yeah, I was an undergrad once. The problem here is that you can't treat a midterm like a custom essay. You can't hire me to ghostwrite the shit out of it because, unfortunately, I can't wear your skin as a mask without doing serious damage to one of the appendages that will hopefully keep you well fucked and/or well inebriated. That said, I humbly you offer these study tips – which got me through an Ivy League BA and MA while well fucked and inebriated.
Take cues from your Prof
I, like many other professors, have this horrible tendency to be overly emphatic about pieces of material that will be on the test. If you attend class, and you notice that your professor is mentioning a certain phenomenon multiple times, and even linking it to other phenomena, you can be sure as shit that it will be on the test.
Study strategically
With the above in mind, especially if you're in a time crunch, make sure that you focus on those elements that your professor has focused on. It might seem too obvious but so many people suck at taking tests because they want to memorize everything that's in the lectures, readings, and tea leaves. DON'T FUCKING DO IT!
Type it up
This will be your biggest time suck but you will not regret it. First, type up your notes! Yeah, type them up! This will do three things for you. First, it will trigger those phenomena mentioned in number one that your prof kept going over and over in class and allow you to focus on them. Second, it will allow you to skim the material that's not crucial to the class but that might show up on a multiple choice question or help you fill in an essay with fluff. Third, it will allow you to figure out what you really need to be spending time on.
Type it up again
Move on to your textbooks and readings. Assuming that you're not a fool, you've highlighted stuff. Type up everything (ABSOLUTELY EVERYTHING) that you've highlighted! This will allow you to replicate what you did for your notes with your readings. Rinse and repeat.
Read it, over and over, and over….
Now that you've got all of this crap typed up, read it over and over and over till your balls are blue. As you do this, highlight what's most important (YES, I'M ADVISING YOU TO HIGHLIGHT YOUR PREVIOUS HIGHLIGHTING). This will allow you to focus even more significantly on key concepts while skimming the fluff. Third time around, underline the most crucial highlighted bits with a pen. Keep doing this until you run out of writing instruments for providing different annotations. Now you're studying smart.
Maximize your returns
With all this done, you've got to know when to stop studying. Seriously, it's crucial that you sleep before the test. Do not fucking cram until seven AM and then rush to school! No! Go to bed when you feel like you're getting confused. You'll hit a point where, the more you study, the more you'll feel like you're losing grip on the material (YOU'RE NOT!) Go to bed then. Diddle yourself, have a smoke, whatever! Stop studying! You'll remember the stuff that you think you'll forget in the morning (Seriously, it will be crystal clear!)
Show up and rock out!
Take the test. Then hire me to write your next custom essay. Seriously, I rock – and I'm funny too.