Getting Ready for a New Semester: Rogue Style
With the dreadful misery of a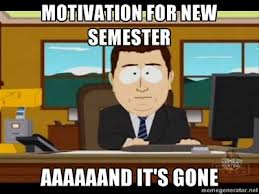 new semester of busy work approaching you, and with the allure of our custom essays already ringing throughout the halls of your Soviet-style concrete classroom building, it's time to get ready for what the new semester's gonna bring. This is how you prep for a semester, Rogue style…
STRATEGIC SYLLABUS READING (AKA How to Pick Classes): When you're considering which classes to pick for semester, you have two options. In figuring out which option is right for you, I'd strongly recommend checking out as many syllabi (yes, this is the plural of the word "syllabus" rather than the name of a part of the female reproductive system) as your beer-soaked liver will allow you to. More often than not, different university departments will store old syllabi on their websites. What you've got to do, lady or lord, is pick through these syllabi and look for one of two patterns.

Pattern One: EXAMS ALL THE WAY – on the one hand, you can look for classes that don't have any essays or other significant pieces of written work. As you know, if you've got a few semesters underneath your belt, is that these are far more common in the hard sciences than in the softer ones. So, for one, you might just not be able to pick this option if you're majoring in something awesome-sauce such as Sociology. On the other hand, even if you pick this option, failing the exam's a quick way to a slow and painful academic death. So, if you're not sure about what the right path might be, or if you've got mad skills in a given subject, this might not the pathway for you, even if you do suck at writing.
Pattern Two: OUTSOURCE YOUR ESSAYS – On the other hand, you can look for syllabi that are writing heavy. If you've got the fliff and moral compunction to have us write custom essays for you, this might be the righteous path for you. Look for syllabi that are heavy on writing, and that are complemented with quizzes. These quizzes are likely to be easy-peazy and won't challenge you more than one of the early levels of Mario-Kart. If you really do suck at writing, you can just outsource your essays to our capable hands (Rogue Squadron, WHAT!), and not worry about your grade one bit.
GET MAD INTEL: This might seem flipping obvious but, talk to your roommates, fuckbuddies, lab mates, and other good old pals. Find out which of the profs you can choose from seem like decent human beings, and which ones are atrocious monsters. This is really the only way to ensure that your classroom experiences, for the semester, aren't tainted by the pernicious blight of an academic so blighted by his or her majestic robes (or tweed) that you become the pawn in a sick game of "you're my bitch." Choose wisely, grasshopper, or you might suffer dramatically.
LOG ON EARLY (and get off fast (couldn't help myself): Make sure to get online right at the start of your registration window. While you might be able to pick up some worth sloppy seconds midway through the registration period, most of your chums are going to be running the same game plan as you. In the old days, when I had to register for classes, you had to key in classes, over the phone, based on a course schedule as big as a telephone book. So, don't worry – you've got it good. That said, take advantage of the good times, cool-ass technology, and register early.
Week One Scouting: Finally, in seeking to optimize your possible course choices, attend as many classes as you can during you first week of classes. If you're wondering how to pick your classes, this is great way to go about it. By course-hopping like this, you can figure out whether or not a prof with a hard-ass syllabus is a sweetheart, and whether the pain of the class might be less than you think, or whether a prof who seems to be offering a sweet ride is instead a terror. Thus, by attending multiple classes during the first week, even if you're not registered, you can find the gold in a turd mine, and vice-versa.