First Semester: How to Prepare and What to Expect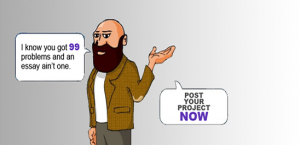 The beginning of anything can be a scary process. The first semester of school can be overwhelming, since it usually means its' the first time you live away from home and are paying for your education. The stakes are high. But even if you're a veteran student, read on for some tips on how to prepare and what to expect. That way, if this is your first semester or your fiftieth (hey, no judging), you'll make this term the best one yet.
The most important ways to prepare for the first semester are to reduce surprises, be organized, and be proactive. What does this mean? Visit the bookstore as soon as you know what classes you're taking, and look for the books you're required to buy. If necessary, email your professors and ask if an older version of the book will suffice – this can save you big bucks! Remember, the earlier you investigate your books, the better your odds of getting a deal on a used copy! Don't be afraid to email your professor or TA, even if just to introduce yourself. Talk to some returning students and ask about things like shortcuts across campus (valuable if you oversleep!), best places to get used books, and of course, the classes and professors they'd recommend! Remember, it's the little things that can really wreck your day: showing up late to class, going to the wrong building or classroom, or parking in the wrong place. These minor mishaps can chip away at your motivation and academic success.
The day before classes begin, walk to each of your classrooms. Make sure you know where each is, and get an idea for how long it will take you to "commute" from your dorm or home to class. Scope out parking and make sure you understand campus parking policies if you're driving – nothing's worse than coming back to your car after a long day to find a parking ticket! Be sure to clarify if any buildings have similar names (for example, East Hall and West Hall). Look at the classrooms and ask yourself where you think you should sit to be as successful as possible. Do you feel inspired if you can see your professor's nose hair? Do you concentrate better in the back of a lecture hall? Is there a loud, throbbing heater on the left side of your classroom? Develop a first-day game plan! Also, if you're a procrastinator, make sure you know where all the university computer labs are, and their printing policies. Many professors – myself included – have zero tolerance for printing or computer mishaps, so you'll want to be sure your assignments are printed and ready to go. You'll want a backup plan in case your printer malfunctions or you just forget to buy more paper. Many universities give you a certain number of free pages printed each term anyway, so maybe you can skip buying the ink and get some beer instead.
On the first day of classes, don't just sit and listen to your professor yammer about the class. Look at the syllabus. Write down due dates for major assignments and exams now – and program them into your phone! You might even want to "trick" yourself by programming in a due date that's a little earlier to ensure you don't miss a deadline. Enter in reading assignments, too, and if there's a day with no reading or assignments, get ahead! It might take a couple hours to enter every due date for every assignment, but not missing deadlines will pay off in the end. Network, too! The first day is a good day to scope out your classmates. Don't just look for the most attractive person. Consider who might be a useful contact if you miss class or have to do a group project. The geek in the back might really be helpful.
During the first week, or as soon as you can, meet with your advisor. Each school advises its students differently, but no matter what, make sure that you understand what credits you will earn this term and where you're at in terms of graduation timelines. Ask what requirements you are fulfilling and which remain. Have your advisor run through a variety of scenarios with you so you know what your options are and you know what the consequences of your choices are. Be proactive! After all, this isn't just school. It is your future. By making sure you are organized and proactive, reducing the possibility of surprises, and asking for help when you need it, you can be prepared for success this semester – and every other term.
If you need help with an essay or term paper post your project on unemployed professors today!